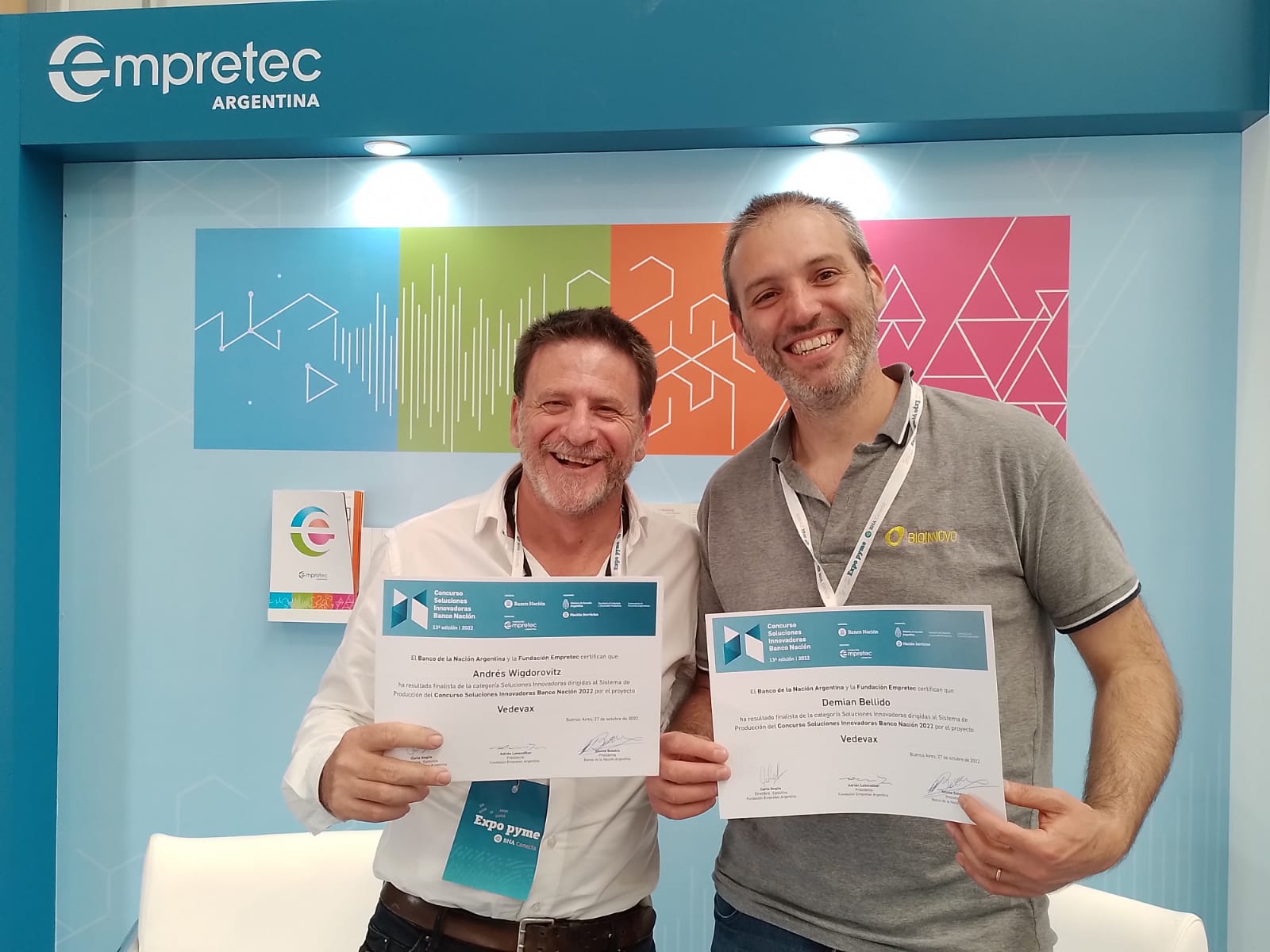 Por admin en Awards, News
The world's first targeted vaccine against the Bovine Viral Diarrhea Virus (BVDV), developed by Bioinnovo, was one of 4 finalists in its category among around 1,000 projects submitted at the 13th edition of the Pioneering Solutions Contest from Banco Nación, aimed at SMEs and enterprises.
Aiming to enhance projects targeted at improving people's lives, contributing to the development of communities, upgrading productive systems, creating or embracing technologies that alleviate adverse effects in the environment and generating inclusive processes for the most disadvantaged social groups, Banco Nación organized the Empretec contest for pioneering solutions. During its 13th edition, the development of the Vedevax Block vaccine turned out to be one of the four finalists in the 'Pioneering Solutions Targeted at the Production System' category, after a selection process consisting of different stages among a total of around 1,000 submitted projects.
'The mention obtained is the result of the long process of creating the first recombinant targeted vaccine against Bovine Viral Diarrhea (BVDV) at Bioinnovo SA, a company constituted by INTA and Vetanco', said Andrés Wigdorovitz, manager of IncuINTA.
'It was a process that grew with challenges, registrations and learning, although we still have much to learn and develop', Wigdorovitz reflected. 'Now we're approaching a new stage, the internationalization of this vaccine with its registrations and events abroad.'
'We thought it was important to participate in this contest of national impact targeted at enterprises and project development, where the proposal is also part of a training we took part in', said Demian Bellido, Vedevax project's lead researcher.
On his part, Jorge Winokur, Bioinnovo's manager, has said they plan to increment participation in scientific events and business meetings abroad to offer the product to potential adherents of this technology.
About Vedevax Block
It is the world's first targeted subunit vaccine against Bovine Viral Diarrhea. A disease that causes substantial losses because it affects cattle all around the world, of all breeds, in all development stages, affecting reproduction rates since it is the main causal agent of temporary infertility.
The vaccine has a positive impact on controlling the virus, increasing the calf production of an industry that supplies both the local and international markets. 'It allows us to obtain antibody titers from live vaccines, but without the risks', said Andrés Wigdorovitz, a scientific leader at Bioinnovo SA.
Attenuated or live vaccines are prohibited in Argentina for safety reasons. The country prides itself on an exceptional sanitary status without the presence of many diseases, which enhances the exportation of meat, its direct by-products like whey and milk powder, and its indirect ones like vaccines and processed food. Therefore it is of the upmost importance to maintain said sanitary status.
'This encouraged the development of Vedevax Block, which has the capacity to combine the potency of the live vaccines with the safety of inactivated vaccines— a journey that's only just begun', stated Wigdorovitz.