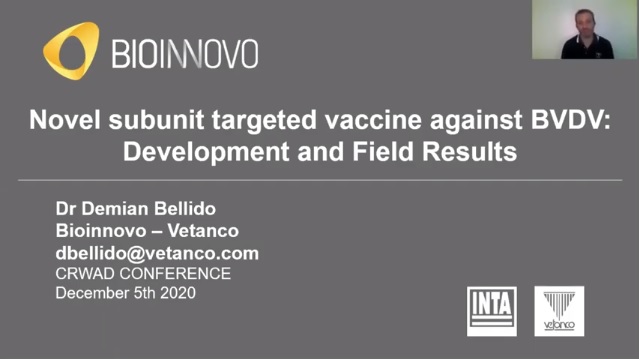 Por admin en News, Technical talks
Our specialists participated in the "Conference of Research Workers in Animal Diseases 2020" held virtually last December 5-8.
The "Conference of Research Workers in Animal Diseases 2020", locally known as "CRWAD 2020 Conference" took place last December 5-8 in a virtual modality.   Bioinnovo–Vetanco and Vetanco USA specialists participated presenting different technical topics.
During this event, Demian Bellido PhD, member of the Bioinnovo-Vetanco Development Department, lectured on "Novel subunit targeted vaccine against BVDV: development and field results" presenting the results of antibodies obtained from animals vaccinated with vedevax BLOCK in the field. This vaccine was developed by the public-private partnership Bioinnovo, formed by INTA and Vetanco Laboratory.
Jeffrey W. Hall, Research and Development Director of Vetanco USA, contributed two relevant scientific papers to this edition of the conference:
An inactivated, universal Salmonella epitope vaccine protects piglets from Salmonella choleraesuis disease
A universal epitope-based Streptococcus suis vaccine induces strong mucosal IgA and serum IgG responses in piglets
The CRWAD Conference has a long history. It is regularly held in Chicago, United States of America, but this year, in the framework of a health emergency, it took place in a virtual modality with the participation of numerous specialists from different countries.
World renowned speakers made keynote presentations and over 400 research papers were discussed by established  and trainee scientists from all over the world
You can Access to Demian Bellido's full presentation in English at: https://bit.ly/343AHoC
Further information at: www.vetanco.com– https://crwad.org/