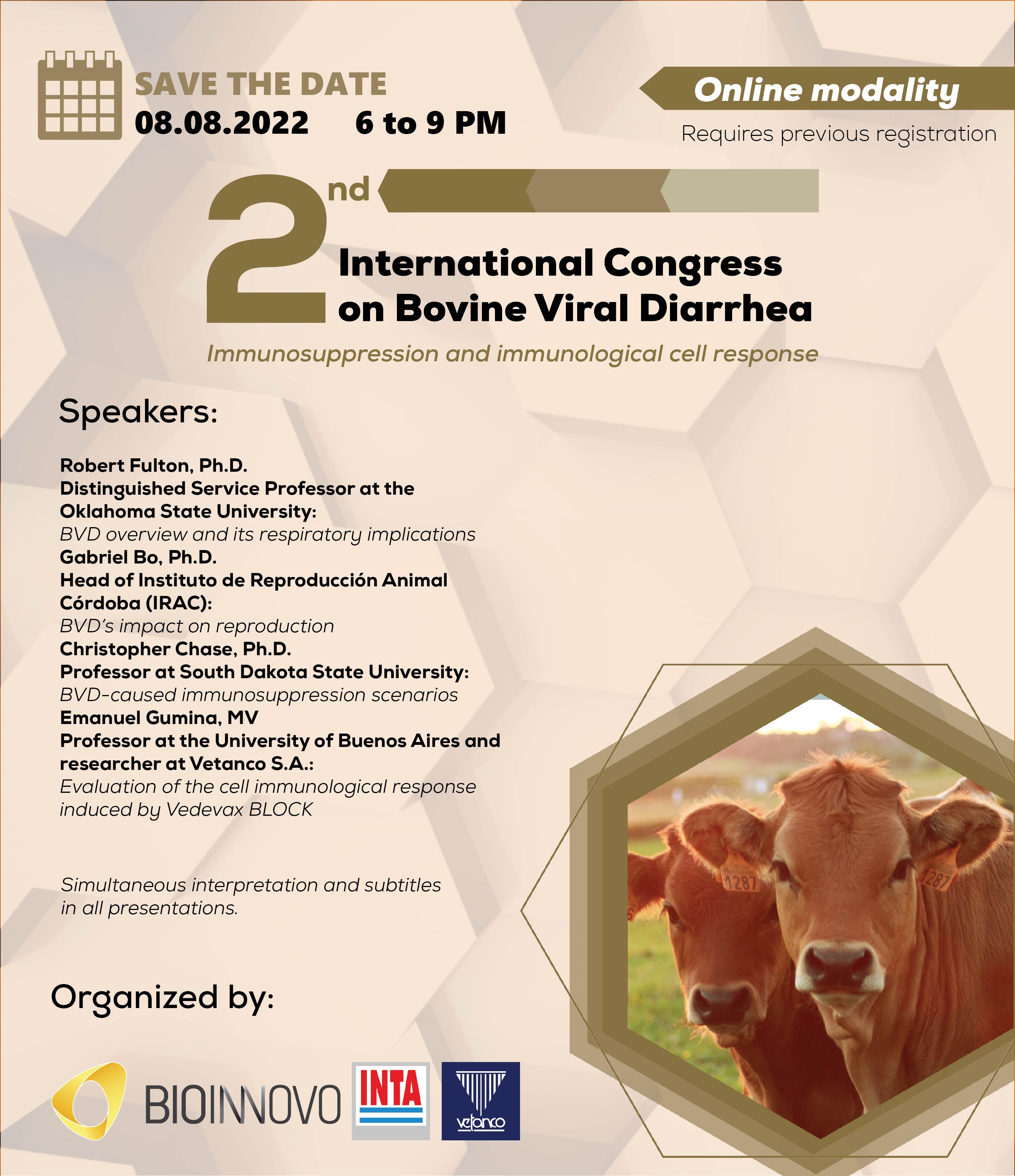 Por admin en Events, Technical talks
In August, Bioinnovo will host the Second International Congress on Bovine Viral Diarrhea Virus (BVDV), which will be held remotely.
Bioinnovo, the public-private company made up of Vetanco and INTA, will host the Second International Congress on BVDV, which will be held online on Monday, August 8th from 6 p.m. to 9 p.m. The presentations will be on the Bovine Viral Diarrhea Virus: immunosuppression and the cellular immunological response. It aims to broadcast knowledge on the BVD virus, its impact, and the control measures needed to mitigate the effects of the virus on the rodeo.
The meeting will be held online and will feature field veterinarians, mainly reproduction experts both in Argentina and abroad. The Congress aims to reach an international audience, and the presentations will be subtitled in Spanish and English.
The Second International Congress on BVDV will feature both national and international leading-expert speakers who will address in full all matters regarding this virus present in 90% of the establishments which causes over 42,000 annual abortions and which is a strong immunosuppressor.
Our speakers are:
Robert Fulton – BVDV overview and its respiratory implications
Gabriel Bo, Ph.D.: BVDV's impact on reproduction.
Christopher Chase, Ph.D.: BVDV-caused immunosuppression scenarios.
Emanuel Gumina, MV: Evaluation of the cell immunological response induced by Vedevax BLOCK.
Robert Fulton is one of the leading international experts in the research on the Bovine Viral Diarrhea Virus and the kettle infectious diseases. He has published over 100 papers in well-respected international scientific journals, has made presentations at several conferences, and has an extensive scientific trajectory.
Gabriel Bo is one of the leading national and international experts on reproduction, embryo transfer techniques, and new technologies applied to bovine reproduction.
Christopher Chase is a researcher specializing in BVDV-caused immunosuppression and the virus's impact on the immunological cell response with over 40 years of experience. He has been granted multiple international awards and recognitions.
Emanuel Gumina is a veterinarian, professor, and immunologist specialist for the different species of interest for veterinary production.
The 2nd International Congress on BVDV will focus on the Bovine Viral Diarrhea Virus, one of the major kettle pathogens around the world which is responsible for great losses both in production and for meat and milk rodeos.
In Argentina, this virus has spread wildly, and it causes losses estimated at over USD 100 million per year in over 80% of the national and international rodeos.
The 2nd International Congress on BVDV will gather national and international specialists and leaders who will address the virus and the various problems it causes from several perspectives and points of view, thus offering a comprehensive approach, encompassing the health and the well-being of animals as well as the productive and reproductive aspects of the rodeos.
The first edition of the Congress gathered over 1,000 enrollees and more than 600 professionals from 16 countries.
Workshops "Diagnostic techniques and BVDV control management measures"
Five in-person workshops will be hosted throughout the country as accessory activities will be held jointly by INTA in the framework of the 2nd International Congress on BVDV:
Corrientes, INTA Mercedes, headed by: N. Sarmiento, Ph.D., M. Acosta, MV.
Salta, INTA Cerrillos, headed by: J. Micheloud, Ph.D., P. Bermudez, MV.
Buenos Aires, INTA Balcarce, headed by: G. Cantón, Ph.D., M. Schang, MV.
Córdoba, IRAC, headed by: G. Bo, Ph.D., G. Rodriguez Senes MV.
Santa Fe, INTA Rafaela, headed by: A. Abdala, Ph.D., F Tibaldo, MV.
INTA researchers will take part in the workshops as moderators and speakers. INTA research fellow and interns will be summoned as assistants.
The workshops are designed for field veterinarians, mainly those acting ad reproduction consultants, area and personal contact people, research fellows, and INTA researchers.
This is a free event that requires previous enrollment at: https://congresointernacionaldvb.gr8.com/
About Bioinnovo
Bioinnovo is the first technology-based biotechnology public-private company, created as a partnership between Vetanco and IncuINTA, INTA's technical and organizational platform for the technological projects' development. Bioinnovo engages in the investigation, design, and development of treatments and prevention methods based on immune globulin antibodies present in the egg's yolk, recombinant targeted vaccines based on the APCH1 platform, and the provision of specialized services focused on animal health.
These developments work toward the treatment and control of diarrhea-causing diseases, such as Rotavirus, Coronavirus, E Coli, and Bovine Viral Diarrhea, as well as food transmitted diseases, such as Salmonella and Campylobacter, which have an impact on the exportable meat quality.