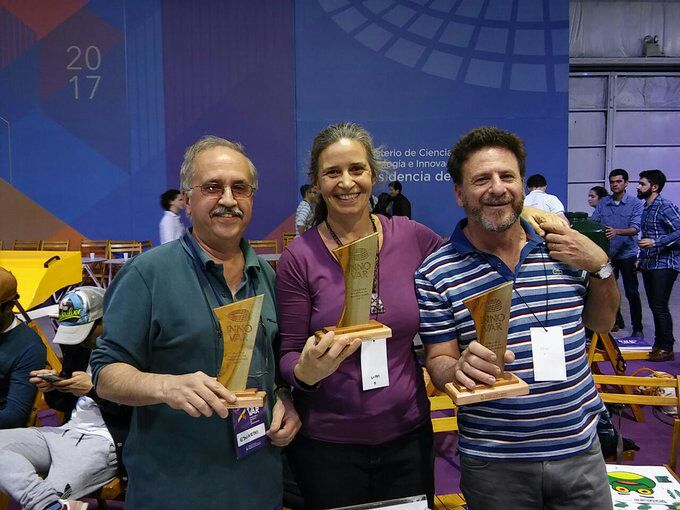 Por admin en Uncategorized
Bioinnovo, the public-private company established by a partnership between Vetanco and INTA laboratories, was granted the InnovarAward by the Argentinian Ministry of Science and Technology for Bioinnovo IgY DNT, the first biological product based on IgY technology, and licensed for the prevention of Neonatal Calf Diarrhea.
The 13th edition of the National Innovation Competition (INNOVAR 2017), conducted by the Minister of Science, Technology and Product Innovation, Lino Barañao, and the head of the Media and Public Content Federal System, Hernán Lombardi, awarded 37 projects, in addition to INNOVAR.
The award, in the Product and Innovative Design category, was delivered to Dr Andrés Wigdorovitz, IncuINTA, who heads the Bioinnovo's team composed of Drs Viviana Parreño, Celina Vega, and Marina Bok, for Bioinnovo IgY DNT, an antibody-based non-GMO treatment against Rotavirus A, Coronavirus, Escherichia coli and Salmonella. Used for the prevention of calf scours, it reduces the shedding of infectious agents in the feces, which is the main source of transmission, thereby reducing the environmental load of pathogens and herd morbidity.
Adrian Balbi, Vetanco, said that "the products developed by Bioinnovo are based on extensive research, doctoral theses, and scientific publications that endorse them, and are unique because they are produced by a public-private partnership."
The National Innovation Competition – INNOVAR is an initiative of the Ministry of Science, Technology and Product Innovation (MINCyT) as part of the National Program for the Dissemination of Science and Innovation. The aim of the contest is to stimulate the transfer of knowledge and technology that, applied to products and/or processes, improve the quality of life of the citizens and, through innovation, allow the diversification of the country's industry.